QUICK LINKS
Scope
MatDes brings together the overriding interest in the inherent architecture of solid matter with the practical need to know and use its properties to perform certain roles in service, either structural or functional. In reflection of this title, MatDes is focused on the studies of natural and engineered materials, with particular emphasis on the elucidation of their structure and properties at all scales, from nuclear and electronic to amorphous and crystalline levels of organisation, to nano-scale and micro-structuring aspects, and ultimately to the manner in which this manifests itself in the suitability and performance of materials in various natural and man-made systems and applications.
In order to help the authors, reviewers and editors identified those directions of research that match the existing and future thematic threads in Materials & Design, to compile a list of priority areas that are of particular interest to the readers of the special issue. These are:

1. Micro- and nano-scale multi-physics phenomena, and the analysis structure, morphology, and the role of interfaces in relation to design at all scales, e.g. electrochemical energy storage, phase transformation and associated processes


2. Operando and in situ studies of processes and structural evolution


3. Processing of alloys and compounds for microstructure and property control, e.g. friction stir and severe plastic deformation


4. Lightweight materials, e.g. alloys containing magnesium and lithium, as well as composites of all types of matrix (polymer, metal and ceramic) and reinforcement, including continuous and discontinuous fibres, low aspect ratio inclusions and nano-structured reinforcements


5. Multifunctional materials, e.g. alloys, polymers and ceramics displaying shape memory effects, as well as bio-composites, composites of green or sustainable origin, and biomimetic materials
6. Intelligent materials design to optimise performance, including hierarchical microstructural optimisation, self-healing, energy absorption, for durability, against damage and environmental extremes
Important Dates
| | | | |
| --- | --- | --- | --- |
| | Action | | Deadline |
| | Paper Submission | | February 20, 2021 |
| | Accept / Reject Notification | | March 5, 2021 |
| | Author Registration | | March 12, 2021 |
| | Camera Ready | | March 20, 2021 |
| | Listener Registration | | March 25, 2021 |
Proceedings
Submitted papers will be Peer-Reviewed (Double blind, and conducted by the technical program committee) and the accepted ones will be published in the conference proceedings, which will be submitted for indexing in Ei Compendex, Scopus, IET etc. major databases.
Journal Special Issue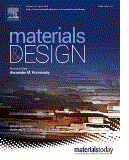 Materials & Design (ISSN: 0264-1275)

CiteScore: 6.25
Impact Factor: 5.77
5-Year Impact Factor: 5.83
Source Normalized Impact per Paper (SNIP): 2.43
SCImago Journal Rank (SJR): 1.951

Indexing: SciSearch/Science Citation Index Expanded
SCISEARCH, Materials Science Citation Index, Current Contents/Engineering, Computing & Technology, INSPEC - Physics Abstracts
Metals Abstracts, Cast Metals Journal, Research Alert, Scopus, EI Compendex.
Submission Method
All submitted papers must be clearly written in excellent English and contain only original work, which has not been published nor is currently under review for any other journal or conference.

Full Paper is requested for publication purpose. With presentation only purpose, please just submit an abstract.


The MatDes 2021 online submission system is opened at iConf. conference system; Click the below link to start with:
http://confsys.iconf.org/submission/matdes2021

For any questions about the submission, please feel free to contact matdes@young.ac.cn
Read more