QUICK LINKS
Keynote Speakers 2020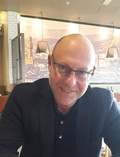 Prof. Alexander Korsunsky,

Vice President, Trinity College, Oxford University, UK
Editor in Chief, Materials & Design
Alexander Korsunsky received his degree of Doctor of Philosophy (DPhil) from Merton College, Oxford, following undergraduate education in theoretical physics. His current appointment is Professor of Engineering Science at the University of Oxford and Trinity College. He has given keynote plenaries at major international conferences on engineering and materials. He has developed numerous international links, including visiting professorships at Universitá Roma Tre (Italy), ENSICAEN (France) and National University of Singapore.

Prof Korsunsky's research interests concern developing improved understanding of integrity and reliability of engineered and natural structures and systems, from high-performance metallic alloys to polycrystalline ceramics to natural hard tissue such as human dentin and seashell nacre.

Prof Korsunsky co-authored books on fracture mechanics (Springer) and elasticity (CUP), and published over 200 papers in scholarly periodicals on the subjects ranging from neutron and synchrotron X-ray diffraction analysis and the prediction of fatigue strength to micro-cantilever bio-sensors, size effects and scaling transitions in systems and structures.

Support for Prof Korsunsky's research has come from EPSRC and STFC, two major Research Councils in the UK, as well as also from the Royal Society, Royal Academy of Engineering (RAEng), NRF (South Africa), DFG (Germany), CNRS (France) and other international and national research foundations. Prof Korsunsky is a member of the editorial board of Journal of Strain Analysis published by the Institution of Mechanical Engineers, UK (IMechE).
Prof Korsunsky is consultant to Rolls-Royce plc, the global aeroengine manufacturer, whom he advises on company design procedures for reliability and consistency. He spent a period of industrial secondment at their headquarters in Derby, UK (supported by RAEng), and made recommendations on R&D in structural integrity.

Prof Korsunsky plays a leading role in the development of large scale research facilities in the UK and Europe. He is Chair of the Science Advisory Committee at Diamond Light Source (DLS) near Oxford, UK, and Chair of the User Working Group for JEEP (Joint Engineering, Environmental and Processing) beamline at DLS. These activities expand the range of applications of large scale science to problems in real engineering practice.

Prof Korsunsky's research team at Oxford has involved members from almost every part of the globe (UK, FR, DE, IT, China, India, Korea, Malaysia, South Africa).



Prof. Kwang Leong Choy,
University College London, UK
Kwang Leong Choy [D.Phil (oxon)., DSc, FIMMM, FRSC] is the Professor of Materials Discovery and the Director of the UCL Institute for Materials Discovery at University College London (UCL) since 2014. She obtained her Doctor of Philosophy (D.Phil.) in Materials Science from the University of Oxford and Doctor of Science (D.Sc.) in Materials from the University of Nottingham. She has been employed at University of Oxford, Imperial College London and University of Nottingham before joining UCL. She has extensive experience in in materials creation, discovery and exploitation of eco-friendly, cost-effective and sustainable high performance thin films and nanomaterials processing technologies, especially for clean energy and engineering applications. She has authored over 230 peer-reviewed publications, including 5 books and 20 patents in nanomaterials, thin films and coatings for structural, functional and biomedical applications. She is the recipient of Grunfeld Medal Prize and has given over 150 keynote papers/invited lectures and conference session Chairman. She is leading a multidisciplinary research team ranging from material scientists, chemists, physics, coating specialists, bioengineering, nanobiotechnology, and engineers. Her team is conducting cutting edge research and technology exploitation of high performance, eco-friendly and cost-effective processing of new nanostructured materials, nanocomposites and superthin/thin/thick films coated products for thin film solar cells, clean energy, energy storage, electrical, optoelectronics, environment, health care, and biomedical applications. She has been elected to several prestigious fellowships such as Fellow of the Institute of Materials (2007-present), Royal Society of Chemistry (2010 - present), European Science Foundation NANO network (2008-2014), Chartered of Science, CSi (2007- present), as well as on editorials boards (Editorial Board of Nano-Micro Letters, Journal of Nanomaterials, and Guest Editor of "Surface Engineering" and "Chemical Vapour Deposition"). She has been the Founder, Inventor and Director of Innovative Materials Processing Technologies Ltd and Co-Founder of Southside Thermal Sensing (spin-out companies from Imperial College London). She was awarded a Visiting Professorship (2001/03) by the Swedish Engineering Research Council at the University of Uppsala, Visiting Professorship for Senior International Scientist at Ningbo Institute of Materials Technology and Engineering (NIMTE, 2010/2012), and Chinese Academy of Sciences (2011/2013). She has secured and managed numerous multimillion pounds national and European flagship research programmes with extensive collaboration with academia and industry. She has also established multi-million pound state-of-the art nanomaterials, innovative thin/thick films processing and characterisation facilities.


Prof. Geoffrey Mitchell
Institute Polytechnic of Leiria, Portugal
Geoffrey Mitchell is Professor and Vice-Director of the Centre for Rapid and Sustainable Product Development at the Polytechnic Institute Leiria in Portugal. Geoffrey Mitchell carried out his doctoral work at the University of Cambridge in the UK and subsequently held a post-doctoral fellowship at Cambridge and a JSPS Fellowship at Hokkaido University in Japan. Prior to his current position he was Professor of Polymer Physics at the University of Reading, UK and from 2005 he was the founding Director of the Centre for Advanced Microscopy at Reading. His research work bridges physics, biology, chemistry and technology and he is a Fellow of both the Institute of Physics and the Royal Society of Chemistry as well as the Royal Society for the Encouragement of Arts, Manufactures and Commerce.

Geoffrey Mitchell is passionate about direct digital manufacturing (DDM) which enables products to be manufactured directly from a digital design without the need for specialist tooling or moulds and the development of novel materials to support the emerging technologies. He is fascinated by the opportunities that arise from merging electrospinning in to the family of DDM technologies. He brings a wealth of experience working with polymer based materials both natural and synthetic. He is particularly interested in the scales of structure present in all materials and especially biopolymers. He has developed and made extensive use of x-ray and neutron scattering methods coupled to computational molecular modelling and electron microscopy techniques.

He is a Visiting Member of the Medical Physics and Clinical Engineering Department of the Oxford Universities NHS Foundation Trust. He is the editor of a book "Controlling the Morphology of Polymers Multiple Scales " published by Springer in 2016.

Prof. Marco Casini
Sapienza University of Rome, Italy
Prof. Marco Casini is a leading academic in the Green and Smart Building sector with over 20 years experience in Building Sciences. He is an environmental engineer, PhD in Environmental Engineering and Associate Professor in Architecture Technology at Sapienza University of Rome, Department of Urban Planning, Design and Architecture Technology. Since 2002 he has been Professor of Architecture Technology and of Environmental Certification of Buildings at the Faculty of Architecture of Sapienza University where he also teaches in several Master's, PhD and Graduate schools on subjects pertaining to Energy and Environmental Sustainability for Buildings. From 2015 to 2018 he is Executive Board member of Department PDTA and of Faculty of Architecture. From 2016 to 2018 Prof. Casini has been the Faculty Advisor and Project manager of Sapienza University Team competing in Solar Decathlon Middle East 2018 Edition.

Dr. Casini's research activities cover a wide spectrum of topics within sustainable architectural design and energy efficiency of buildings, focusing on advanced materials and nanotechnologies for smart building envelopes as well as integrated renewable energy systems. He worked as scientific coordinator on major projects including the development of "Italian regional system for the certification of environmental sustainability of buildings - Protocollo ITACA Lazio" (2014) and the preparation of the "Sustainable Energy Action Plan of Rome" within the European Covenant of Mayors for Climate and Energy (2012).

Dr. Casini's professional activity has included scientific and technical consultancy on technological, environmental and energy aspects related to the design and construction of complex building structures worldwide, as well as training on Green Building and Smart Cities strategies and policy making for Italian public authorities (Prime Minister's Cabinet, Ministry of Internal affairs, Regione Lazio).

He has been member of several Public Technical Working Groups (Italian Environment Protection Agency, UNI, Bank of Italy, Italian technical body of the Conference of Regions and Autonomous Provinces, Regione Lazio) for the development of specific standards on environmentally sustainable construction.

Dr. Casini is the Scientific Director of the Editorial board of the Italian scientific journal "Ponte" and Member of the Editorial Boards of several other international scientific journals in the fields of Engineering and Architecture. He has authored over 80 scientific publications on energy and environmental efficiency of buildings, latest the book "Smart buildings: Advanced materials and nanotechnology to improve energy-efficiency and environmental performance" (Woodhead Publishing Elsevier, 2016).